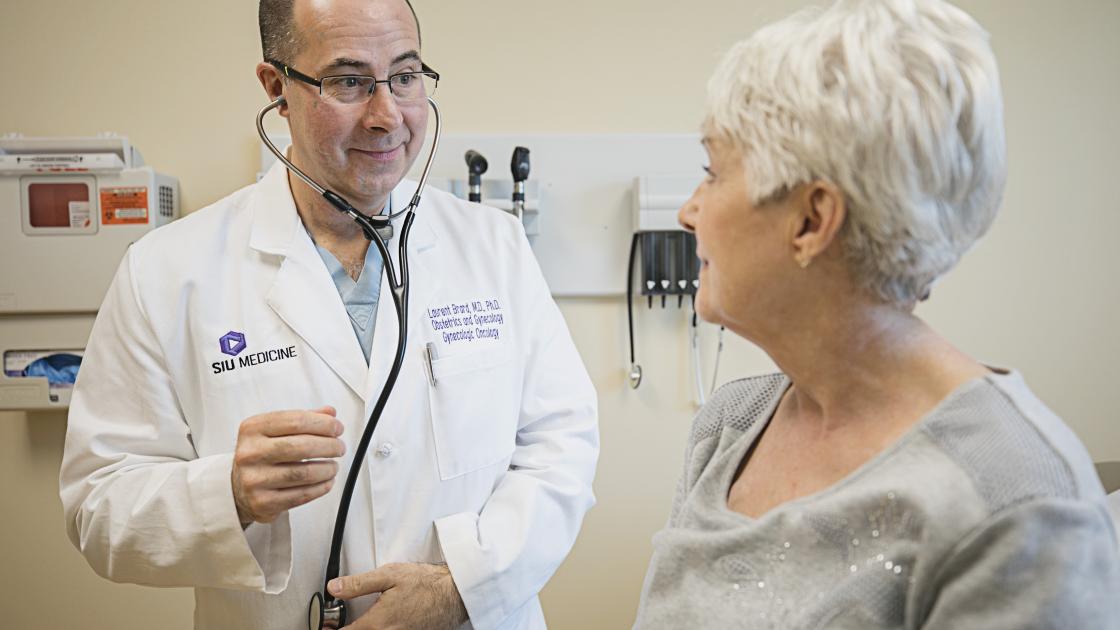 Expertise
The Gynecological Oncology division, directed by Laurent Brard MD, PhD, provides women throughout Central and Southern Illinois with expert, specialized care for the treatment of all types of gynecologic cancers.  Dr. Brard is a board certified Gynecological Oncologist who cares for more than 900 women per year from the region.
We provide consultative services for SIU School of Medicine faculty and private practice physicians in Central/Southern Illinois.  The broad ranges of gynecological cancers seen here are managed using a multidisciplinary, patient-centered approach.
We deliver the most advanced surgical care and therapeutic options, enrolling patients on NRG Oncology trials and offering patients the best options in minimally invasive surgery utilizing da Vinci Surgical Systems.
We participate in educating medical students, residents and fellows by offering exposure to common and rare gynecological malignancies and their management, didactics and research forums.  Annually, the division performs over 700 surgical procedures enabling students, residents and Minimally Invasive Surgical fellows extensive experience for superior training purposes.
Awards/Achievements
Dr. Brard is the Principal Investigator for a new NIH award, Feasibility Studies to Build Collaborative Partnerships in Cancer Research (P20).  This three-year exploratory grant program, totaling $1.3 million, was awarded to the Simmons Cancer Institute at SIU School of Medicine and the National Cancer-Institute-designated Siteman Cancer Center at Barnes-Jewish Hospital and Washington University School of Medicine in St. Louis. The grant will develop a pilot research program that allows junior researchers to obtain research pilot funding, collaborative experience and preliminary data for future grant funding. This grant also will advance the career development of researchers in the field of cancer disparities.
Clinical, Translational and Basic Science Research
Dr. Laurent Brard is currently NIH funded to develop an innovative technique, which may enable physicians to more accurately identify malignant versus benign adnexal masses prior to surgery (ClinicalTrials.gov identifier: NCT02109367).
Our translational research program collaborating with the SIU School of Medicine Simmons Cancer Institute and investigators on the Carbondale, IL campus enables "bench-to-bedside" research to be brought to fruition.  Currently, Dr. Brard and Dr. Dale Buchanan Hales (Chair, Physiology Department) are funded through the Simmons Cancer Institute to conduct a pilot clinical trial utilizing flaxseed as a daily supplement to prolong progression free survival in ovarian cancer patients who are currently in remission.  Investigators are also examining how estrogen metabolites in the urine of women who have been diagnosed with a pelvic mass may correlate with their prognosis, which may lead to a novel, no-risk diagnostic tool (ClinicalTrials.gov identifier: NCT02324439).
The primary focus of the division's basic science laboratory has recently been for drug "re-purposing" to delineate the mechanisms in which cancer cells develop resistance to chemotherapy agents. The results of this research could be crucial to establish novel therapeutic options for the treatment of ovarian cancer.
Looking for a health care provider?