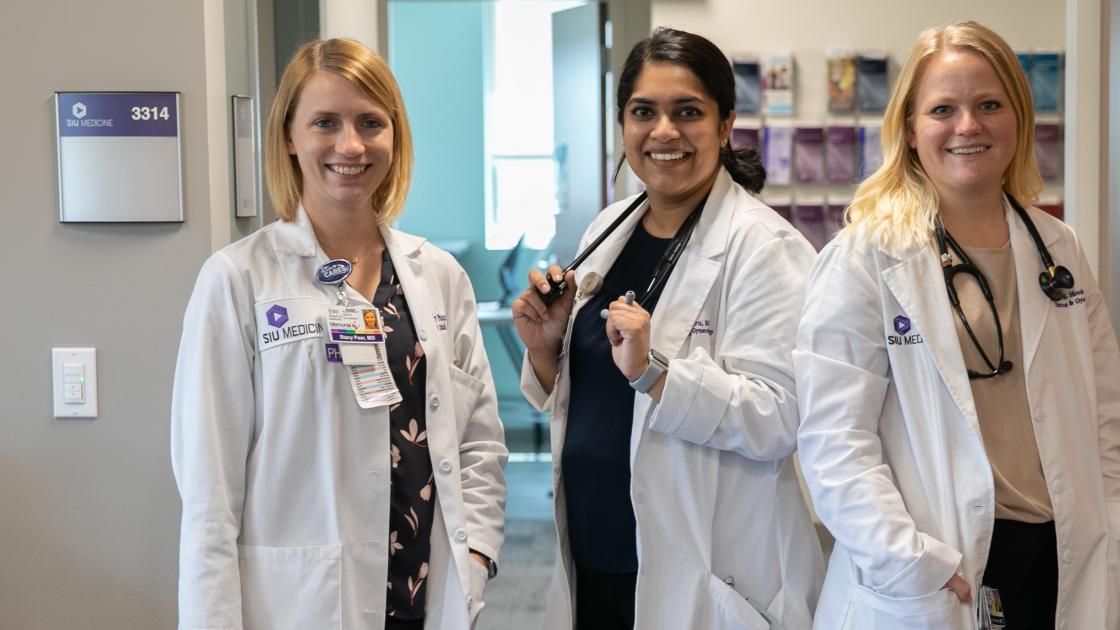 Residency Training Objectives
The objective of the Obstetrics and Gynecology Residency of Southern Illinois University School of Medicine and Affiliated Hospitals is to provide residents with the educational opportunity to become fully competent in the practice and principles of Obstetrics and Gynecology.
This plan provides the framework for residents to develop competence as primary care providers and consultants in diseases common to women. To fulfill the objective of this plan, the resident must take an active role in their education and make the transition from the gaining of knowledge (medical school) to the practice of medicine (residency). Residency provides the opportunity to further develop their intellectual curiosity, dedication to patient care, clinical competence, technical skills, science of disease, and life-long yearning for this knowledge which was introduced during medical school.
The progression from assistant to practitioner is accomplished in a step-by-step fashion throughout the residency. The first year is dedicated to learning the basics of patient care and the basics of the disciplines of the specialty. In the second and third years, more mastery of the specialty with increasing responsibility for patient management is expected. By the fourth year, residents should be able to function as supervised practitioners, with faculty acting as their consultants, and they should have sufficient knowledge and skills of the discipline to function as teachers of their fellow residents. During these four years, residents make the transition from assisting in the care of patients to assuming total responsibility for the care of the patient in a graduated fashion, as they develop competence and proficiency in diagnostic ability, technical skills, patient management, and professionalism.
This process requires sharing in the management of patients with the faculty. The faculty respects the privilege to participate and share in the lives of their patients in the very intimate manner this specialty demands. The faculty (and the patients) extends to the residents this privilege by allowing residents to share in this care. It is with this understanding that the educational framework of faculty instruction and supervision of residents is provided. The faculty can and do provide the framework, but the onus for learning lies on the resident.
Our Commitment to Excellence
Provide a comprehensive program of training in obstetrics & gynecology that is ACGME compliant
Keep all residents informed of any changes that will impact their training
Hire and promote superior faculty and personnel
Maintain the highest level of medical ethics
Maintain an "open door" policy toward residents, being available to discuss residency related problems with objectivity and fairness
Summary & Training Competencies
In summary, the SIU School of Medicine Residency Program is designed and structured to provide comprehensive training in obstetrics and gynecology. Below is a summary of the competencies expected and the tools of assessment for these competencies.
Medical Knowledge
Performance Evaluations
CREOG Examinations
In-House Examinations
Surgical Skills
Patient Care
Performance Evaluations
Patient Simulations
Interpersonal & Communication Skills
Performance Evaluations
Conferences
Presentations
Teaching Evaluations
Professionalism
Performance Evaluations
Medical Record
Completion
Practice-Based Learning & Improvement
Chart-Recall Audits
Conference Attendance
System-Based Practice
Universal Issues
Seminar Series
Video Library
Instructional Materials
Library