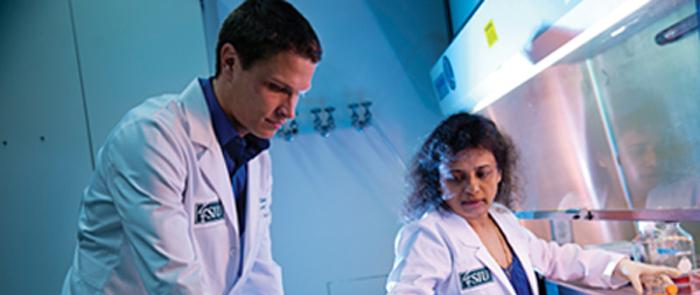 Dr. Joe Kurian to study effects of BPA found in consumer products
SIU researcher to study effects of BPA found in consumer products
Written by Lauren Murphy • Photography by Jason Johnson
Aspects Volume 38 No. 1
Could your water bottle cause infertility? That's what Joe Kurian, PhD, research assistant professor of obstetrics and gynecology hopes to discover with the help of a three-year, $746,724 grant awarded by the National Institutes of Health (NIH). Nearly six billion pounds of bisphenol A (BPA), a compound found in everything from plastic water bottles and food storage containers to thermal paper receipts and baby bottles, is produced globally each year. BPA leeches into foods, drinks and the environment, resulting in approximately 93 percent of Americans carrying significant levels of the harmful compound, according to an article published in Environmental Health Perspectives.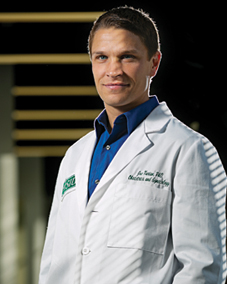 While the FDA has said that low levels of BPA are safe to consume, Dr. Kurian suspects otherwise. "Based on our preliminary research, I believe there is reason to be concerned with BPA exposure," Dr. Kurian says. "We are particularly focused on how BPA affects the health of adults, which has been largely overlooked." The NIH grant will help Dr. Kurian contribute to existing research that suggests exposure to BPA can interfere with the biological effects of estrogen and testosterone and can lead to repeated miscarriages in women and reduced sperm counts in men.
Dr. Kurian studies the hypothalamus, which is sensitive to steroid hormones. "The hypothalamus becomes a target for environmental contaminants that mimic estrogen and testosterone," Dr. Kurian explains. His previous research was the first to show that BPA interferes with the primate hypothalamus, which supports hormone production and helps maintain vital processes including sleep, appetite and reproduction. Dr. Kurian's lab will use NIH funding to study BPA's effect on neuronal control of reproductive and metabolic functions.
Building upon his past research, Dr. Kurian hopes to further investigate the effect of BPA on peptide-secreting neurons from the hypothalamus, which may, in part, explain reduced fertility and abnormal timing of puberty. Because these peptide-releasing neurons also share many characteristics with insulin-secreting beta-cells of the pancreas, he will also study how BPA exposure impacts glucose sensitivity and insulin release, which together affect body weight regulation. "We hope these studies will shed more light on the connection between environmental contaminants and metabolic diseases including diabetes," Dr. Kurian says. "The results of this research will help us better understand the dangers and biological mechanisms of BPA."
Dr. Kurian was previously awarded a $50,000 grant from the National Institute of Environmental Health Sciences to support his initial investigations of BPA exposure. He was also previously funded by the University of Wisconsin in Madison (UW), where he completed a fellowship in neurobiology.
Dr. Kurian joined the SIU School of Medicine faculty in 2014 after working as a research scientist specializing in neuroendocrinology and epigenetics at the Wisconsin National Primate Research Center. He earned a doctorate degree in molecular toxicology and a bachelor's degree in bio-psychology/pre-medicine at UW.