Medical Humanities
SIU School of Medicine was one of the first medical schools in the nation to establish a department of medical humanities. SIU was the fifth pilot project to bring humanities into the clinical experience, according to Glen Davidson, PhD, founding chairman of the department. "SIU was the first to bring humanism integrated directly into clinical education," says Dr. Davidson. "While other schools offered courses in medical humanities, no other medical school so carefully integrated them in students' clinical experiences." Working with the curriculum model brought by Dax Taylor, former associate dean for academic affairs, "we didn't think in terms of courses but themes broken into modules like the rest of the SIU curriculum," Dr. Davidson says. "Somebody from the medical humanities team participated in every clerkship, teaching with one of the clinicians." Disciplines covered in medical humanities include: ethics, health policy, medical history, medical jurisprudence, psychosocial care, and religious studies. The department also is home for the MD/JD dual degree program, one of 24 US medical schools offering this combined degree.
Image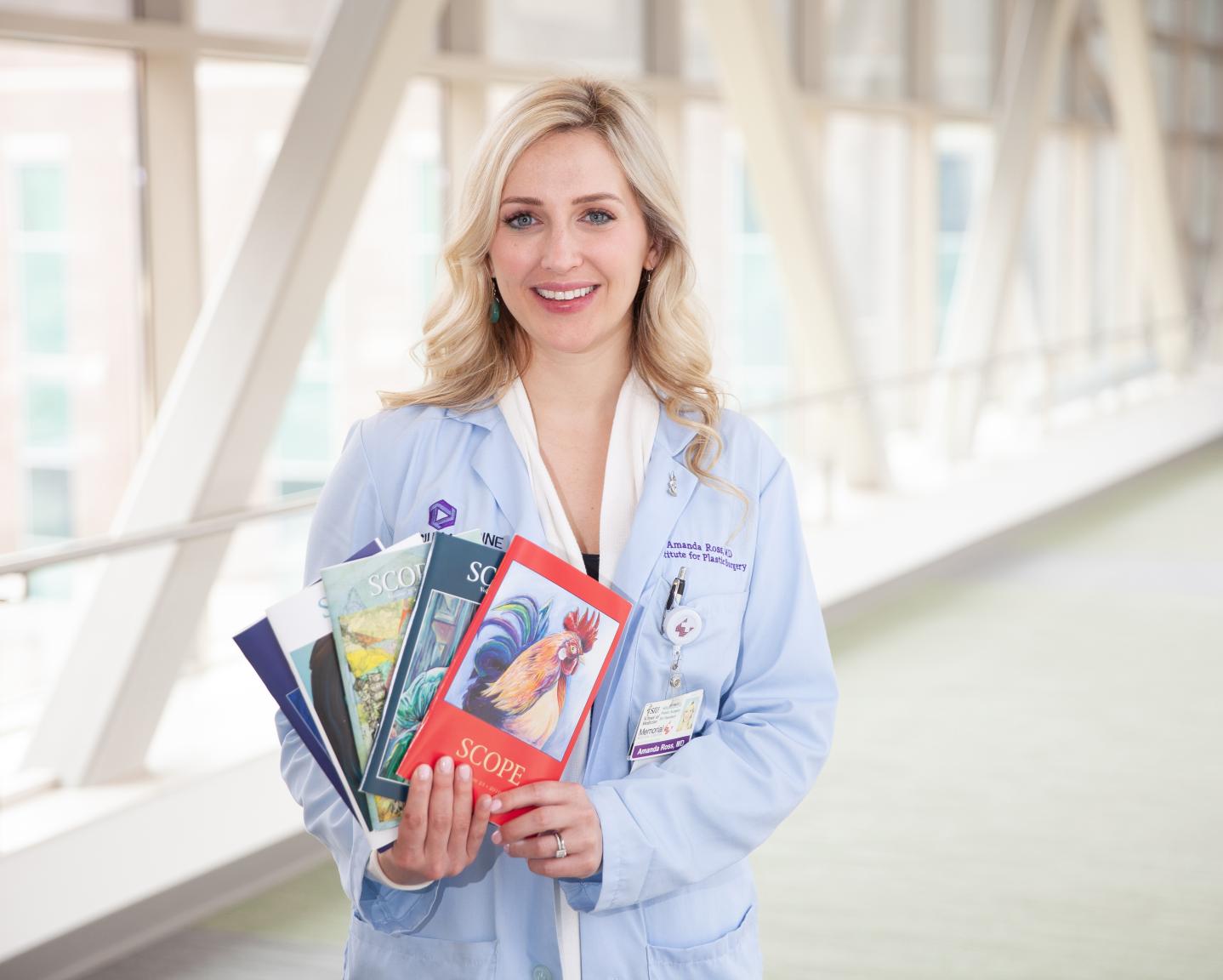 Family Practice Preceptorship
Preceptorships are what medical students dream of before they enter medical school: the opportunity to work alongside a practicing physician in a real office, helping patients, making a difference. SIU School of Medicine's Department of Family and Community Medicine established the family practice preceptorship in 1981, making SIU one of the earliest medical schools in the country to engage students in community-based education, placing students in ambulatory care settings with practicing physicians, says Phillip Davis, PhD, one of the faculty that started the program. For five weeks in their third year, every student gets varied experience with one of 160 practicing family physician in downstate Illinois. "We believe in promoting primary care," says Dr. Davis, "and we're still committed to this mission-based educational innovation today."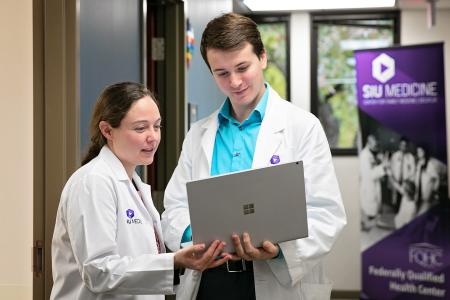 Image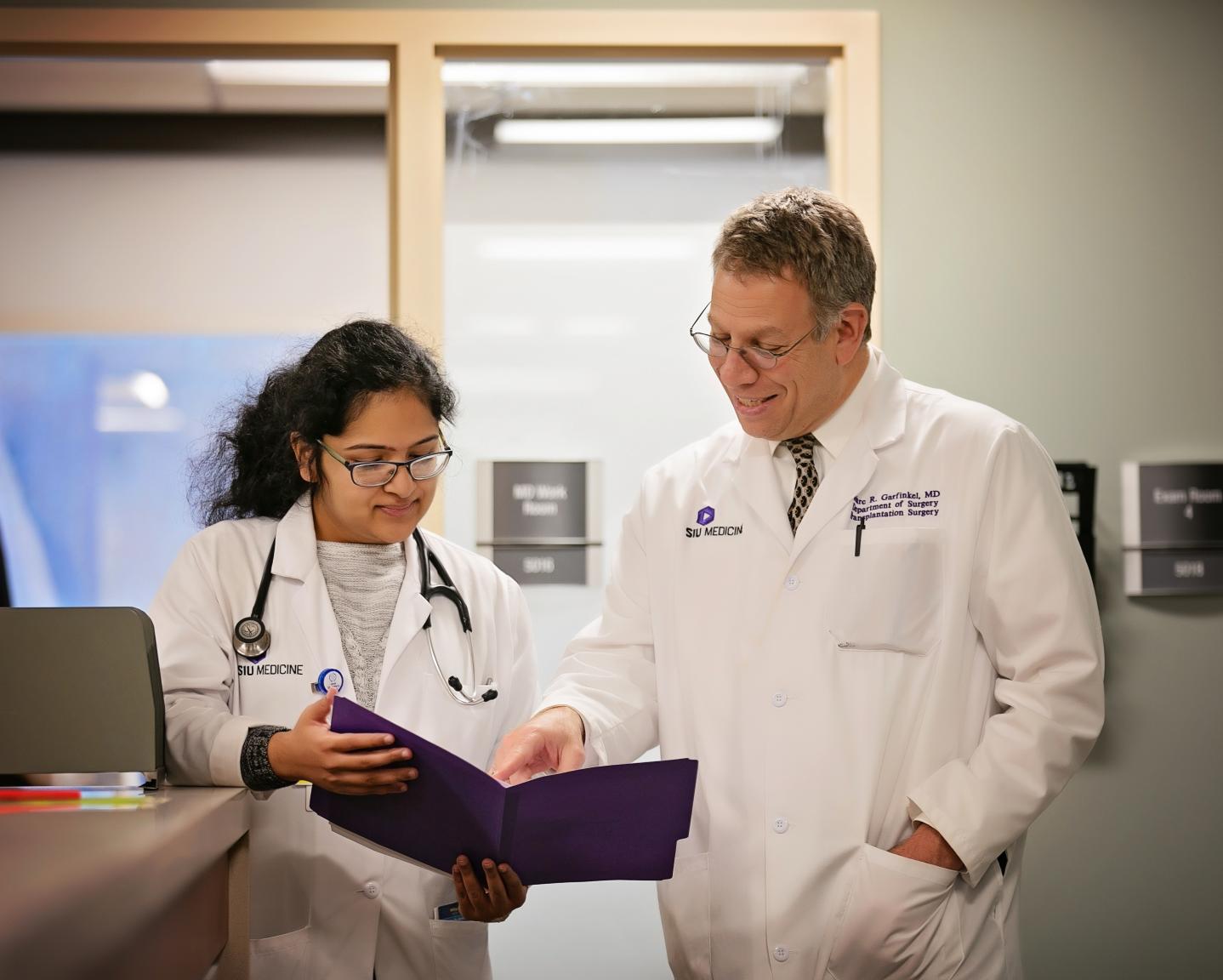 Senior Clinical Competency Exam (SCCX)
The senior clinical competency exam (SCCX), developed by Reed Williams, PhD, Howard Barrows, MD, and others, has been used at SIU School of Medicine for more than 25 years. The school was the first U.S. medical school to develop this comprehensive, direct measurement of students' clinical skills using standardized patients. The 14-station exam has questions administered randomly from any discipline of medicine. "This replicates what the student would see in practice," notes Debra Klamen, MD, MHPE, senior associate dean for education and curriculum. Today, more than 90% of schools use some kind of clinical competency exam. The Step 2 Clinical Skills exam, which all students in the nation have to pass, now uses standardized patients in the testing process. In 2004, SIU developed the senior clinical competency exam remediation, a 4-week course in which students are immersed full-time with clinical faculty to guide them through symptom presentations and differential diagnoses, providing continous feedback.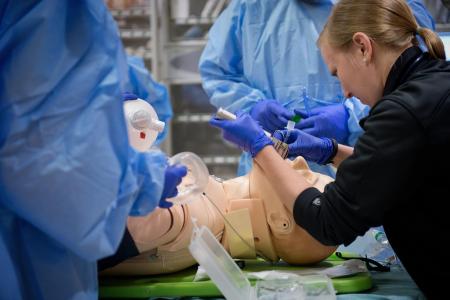 Nurse Educators
SIU is one of only two medical schools in the nation who use nurse educators extensively in their curriculums. Sometimes called "physician educator extenders," the idea is simple: Experienced master's-degree-educated nurses devote their days to educating students and seeing they develop good clinical skills. Ten nurse educators have become embedded in the culture of SIU School of Medicine, working with nearly every department to ensure students in groups or individually receive guidance. "I think this is the most innovative technique since standardized patients," notes Dr. Deb Klamen. Students learn nurses are observant and knowledgeable, which fosters a positive teamwork attitude that carries over into their medical careers. SIU School of Medicine was lauded by the Liaison Committee for Medical Education for its success using nurse educators. SIU's first nurse educator, Norma Wylie, MSN, RN, was hired in 1978. She was the first nurse to become a full professor with tenure at a U.S. medical school.
Surgical Skills Center
Dr. Gary Dunnington, former professor and chair of the Department of Surgery, led efforts to open the Springfield-based Surgical Skills Center in May 2000. At the time, it was one of only a handful of centers designed specifically for training surgical residents. Today, the Memorial Center for Learning and Innovation is home to SIU's state-of-the-art facility.
Skills labs have revolutionized surgical training. Using computer simulators, virtual reality technology and specially designed procedure models, surgical residents learn a wide array of surgical skills:  instrument tying, one/two-handed knot tying, laparoscopic proficiencies, vascular anastomosis, chest tubes, central lines, splinting and more.
SIU faculty and Surgical Skills Center staff assisted other surgical educators in developing a national curriculum to encourage other residency programs to integrate the training practices into their labs. The ACS/APDS National Surgical Skills Curriculum has developed three phases. Phase I includes basic surgical skills designed with first and second year residents in mind.
Image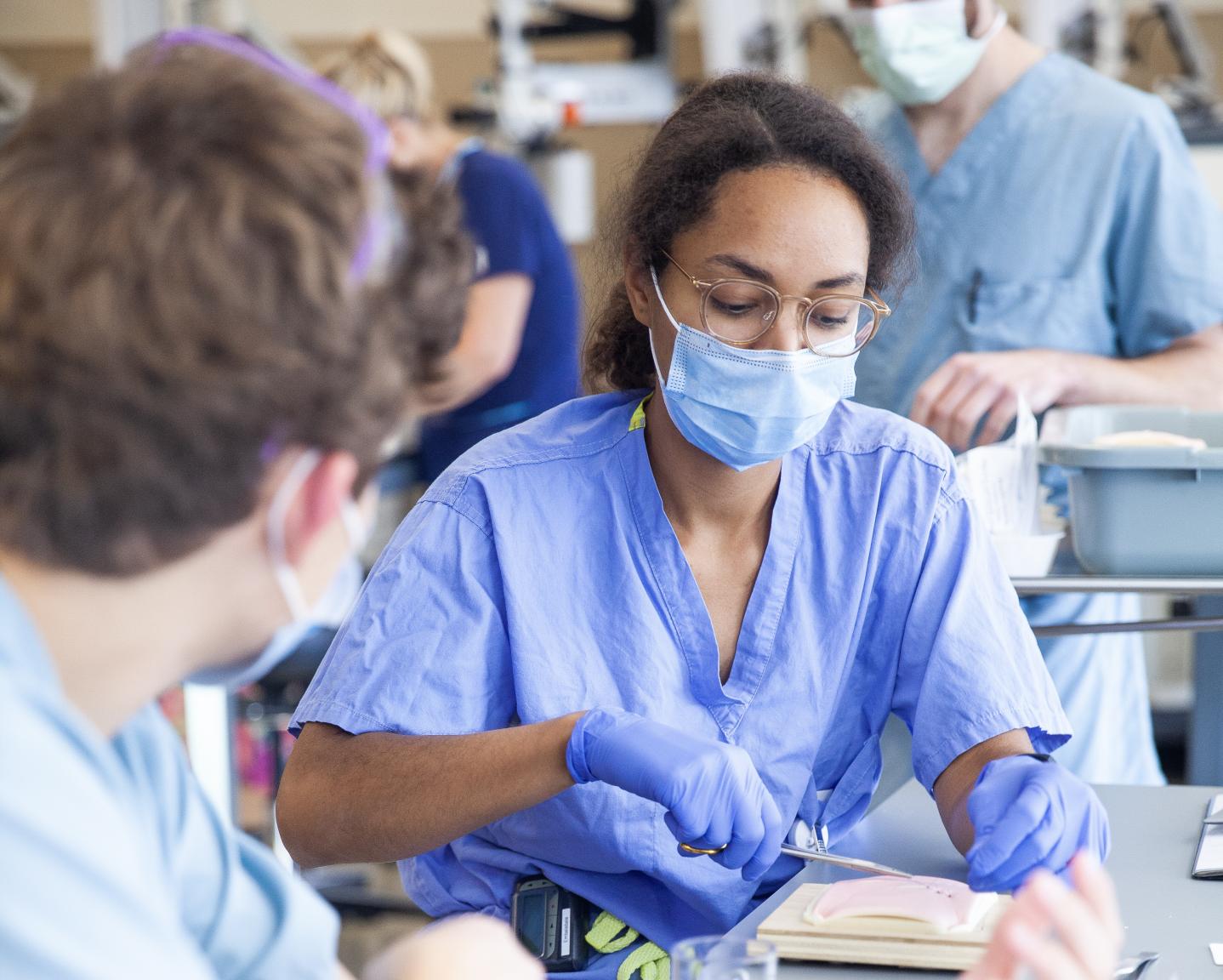 Resident Readiness Electives
Surgeon David Rogers, MD, developed the Resident Readiness Elective, a surgical elective that gives eager fourth-year students a preview of the skills they will need as surgery residents. The elective's curriculum includes training in the Surgical Skills Center, simulations with nurse educators to introduce management of post-operative situations, and additional experiences in the dissection of human cadavers. It's one of the School of Medicine's most popular electives. Similar versions have been developed for obstetrics, emergency medicine and internal medicine.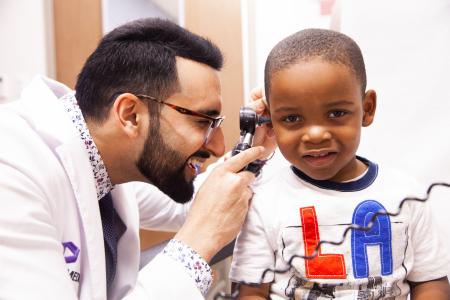 Image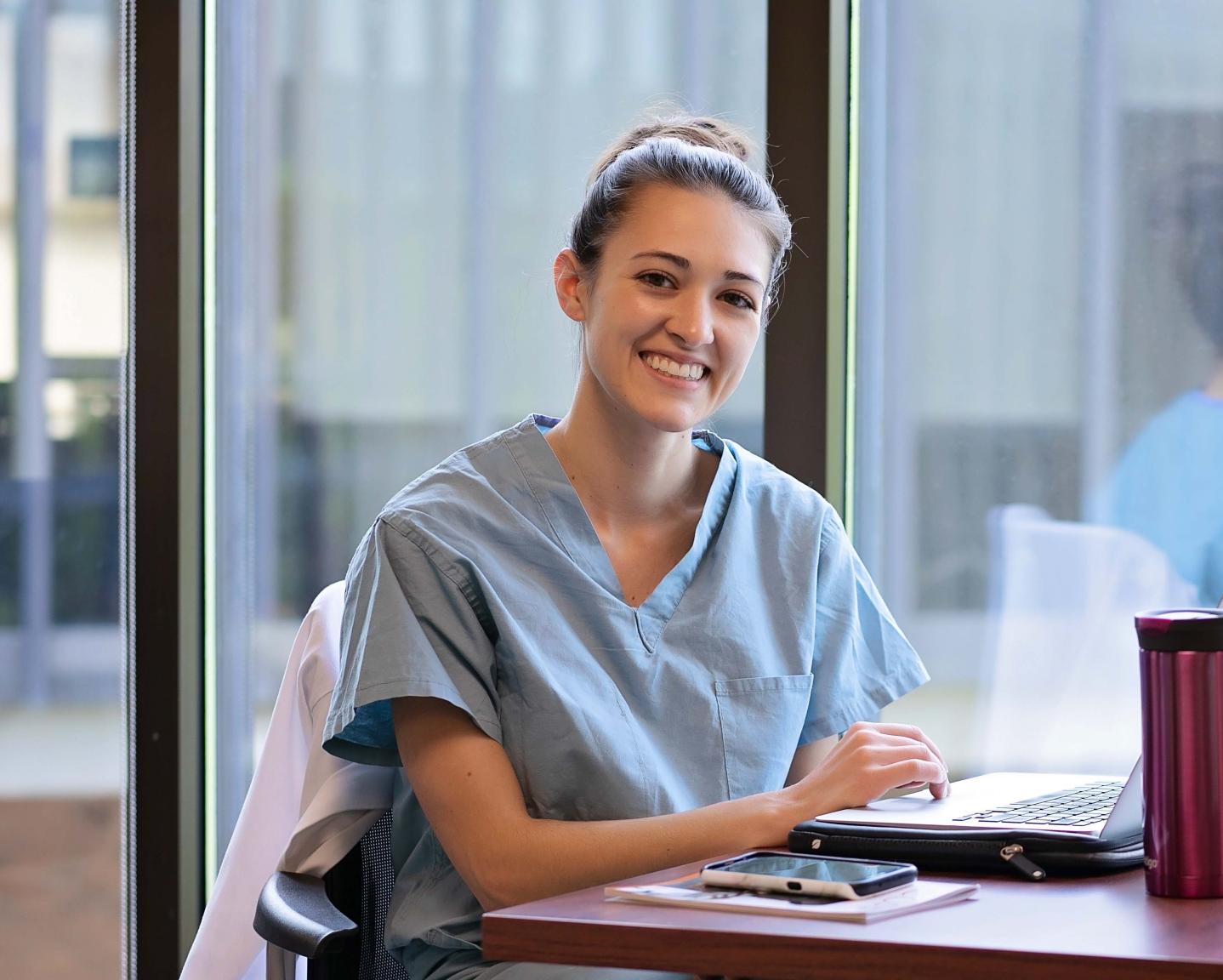 ePBLMs
Electronic problem-based learning modules (ePBLMs) are considered the core of the problem-based curriculum at SIU School of Medicine. Basic science researcher Amy Arai, PhD, created the idea and developed the web-based modules. Students work together in their tutor groups to address patient problems in a free-inquiry format using online resources to ask questions and receive answers. Students interview standardized patients, take a computerized test and meet with a clinician who gives them immediate feedback on the oral presentation and physical exam. A regular problem-based learning case ensues.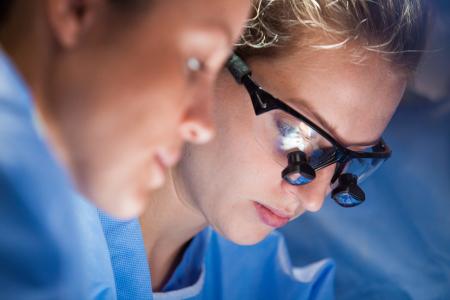 Longitudinal Performance Assessment
This assessment tests students' growth in clinical reasoning across their four years of medical school training. Students start each year of medical school by taking the test. Questions include the ability of students to recognize a pattern of illness and clinical data interpretation. The results are mapped over time to measure students' progress. SIU compares results from the longitudinal performance assessment with five other schools so our medical students know how they are doing in relation to their peers.
Health Information Technology Training
SIU School of Medicine is one of the few medical schools teaching second-year medical students how to effectively use electronic medical records (EMR). Nationally, most students learn to use them in the clinics during their third-year clerkships. "EMRs are an integral part of clinical practice, so we need to give our medical students the earliest possible exposure to it," says Lauri Lopp, MD, associate professor of family medicine. Standardized patients help teach the year-two students the EMR system with progressive tasks. Students see the patient in the PBL lab, enter history and physical exam data into the electronic medical record while they are seeing the patient, close the database and re-open the EMR in the computer lab to document notes. Feedback follows. The training also introduces students to the numerous efficiency and patient-safety aspects of an EMR necessary for quality patient care. 
Image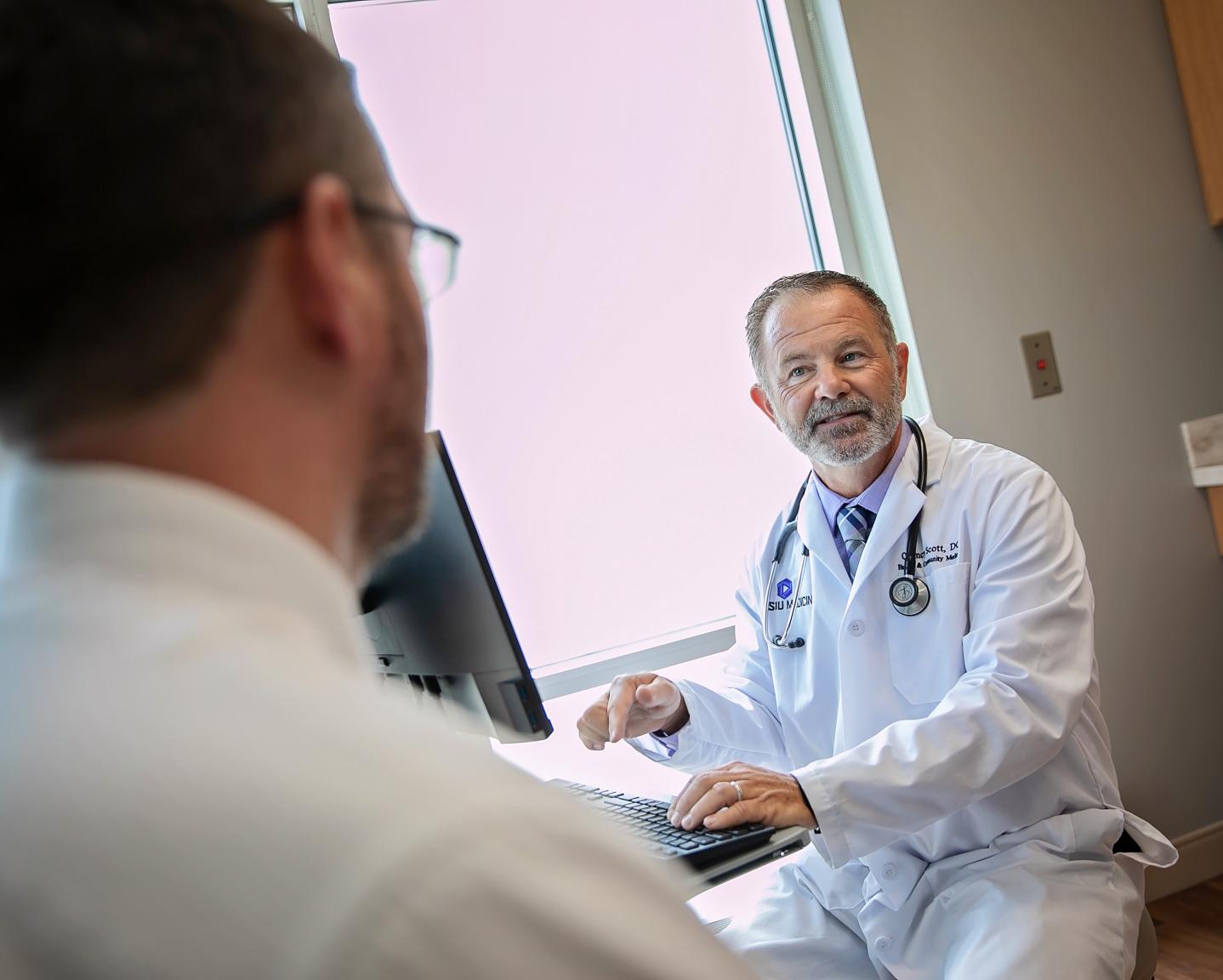 Handoff Training
This exercise teaches second-year medical students how to manage "handoffs," a critical point in patient care when shifts change and physicians transfer patient care to colleagues.
In this simulation, students see a standardized patient with pancreatitis. The students then move to a simulated hospital unit, where they are given a written handoff from a resident who "went home sick." While students document the patient data in a SOAP note, noise levels in the computer lab rise to mirror the real world. Amidst the clamor, the student receives two pieces of information: One note is not about their patient. How the student handles the last-minute information is key as they verbally handoff their patient to another resident. Feedback follows. First administered in 2009, faculty found that 50% of students made a medical error by including information in the handoff about the wrong patient. "It was an eye-opener to us and the students," says Dr. Klamen. "They learn that it's easier to make a mistake than they thought."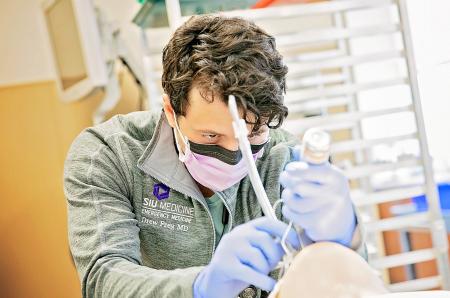 Image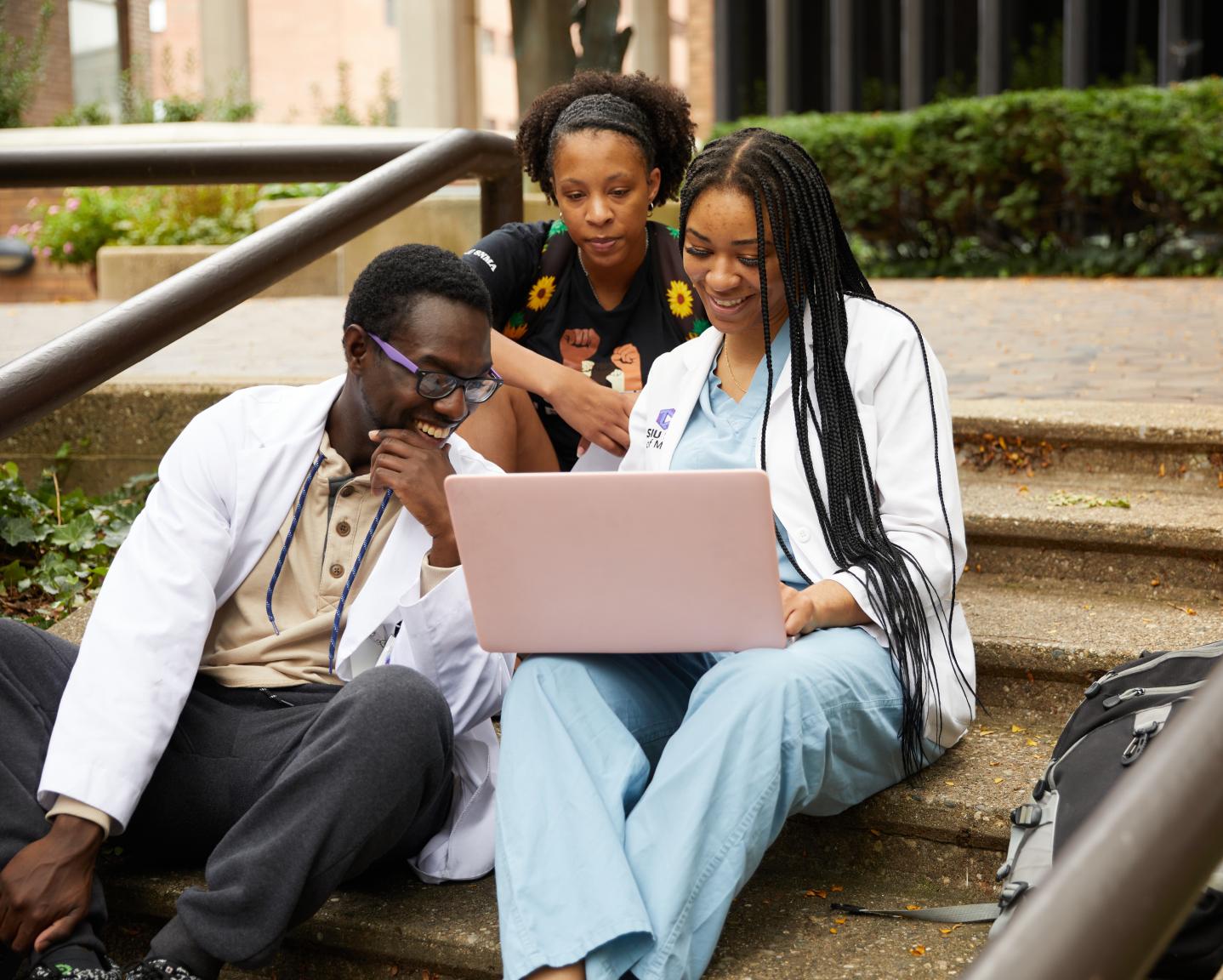 Population Science and Health Systems Science
SIU School of Medicine is one of only 15 medical schools in the country with a Population Health or Population Science Department. The Department of Population Science and Policy (PSP), established at SIU School of Medicine in 2018, provides educational experiences to students and residents focused on social determinants of health and healthcare disparities. PSP curriculum also covers public health science topics such as epidemiology and biostatistics, ethics, healthcare delivery, and quality and safety.
In addition, PSP curriculum incorporates the "third pillar" of medical education, Health Systems Science, as outlined by the American Medical Association Education Consortium. Health Systems Science (HSS) is the understanding of how care is delivered, how providers work together, and how the health system impacts care delivery. Traditional medical education has relied on basic and clinical science to train healthcare providers so many medical schools lack a formal HSS curriculum, and most residents and faculty did not receive HSS education during their training. Therefore, PSP in Practice integrates HSS topics into clinical clerkships to increase recognition of HSS in clinical settings, and help students make connections between preclinical and clinical experiences. The experiences utilize a teach method to simultaneously train residents and faculty on how to recognize and teach HSS in clinical settings, providing specialty specific examples.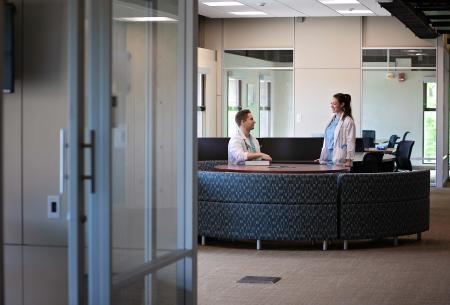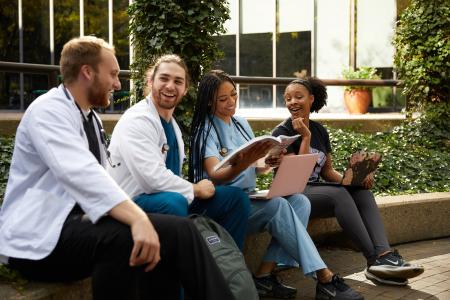 Need more convincing?
Here are some characteristics of SIU School of Medicine that we believe make us an excellent choice.
Innovative curriculum:  SIU School of Medicine has long been considered a pioneering leader in medical education. Clinical experiences begin early in the first year, and a problem-based learning approach to education allow for integrating basic science knowledge into our students' clinical skill development. Read more about SIU School of Medicine's top educational innovations. 
Student-centered education:  Small class size allows for enhanced student-faculty interactions and increased opportunities to pursue clinical and research areas of interest. The student to faculty ratio at SIU School of Medicine is nearly 1:1. Students collaborate, almost exclusively, in small groups (6-7 students) for basic science and clinical instruction.
One-of-a-kind:  Our Medical Humanities department offers a comprehensive Doctoring curriculum allowing students to gain a greater understanding of the complex policy, legal, ethical, philosophical, psychosocial and spiritual issues affecting health care providers, patients and the community at large. The doctoring clerkship in Year 4, a required part of our curriculum, is one of the very few programs of its kind in the country.
Scholars Programs:  SIU offers two stimulating scholar tracks for learners. The Lincoln Scholars Program provides intensive clinical experiences in years 1-4 of medical school. Each class of 8 students trains with an interdisciplinary team in Carbondale and neighboring communities, with a curricular focus on producing highly skilled primary care physicians who know the nuances to keep their rural neighbors healthy.
The Research Scholars Program is a brand new elective designed to nurture a student's fondness for research while attending medical school. Curriculum and mentoring complement laboratory training, and unfold the potential of a career in health care that can toggle from bench to bedside.