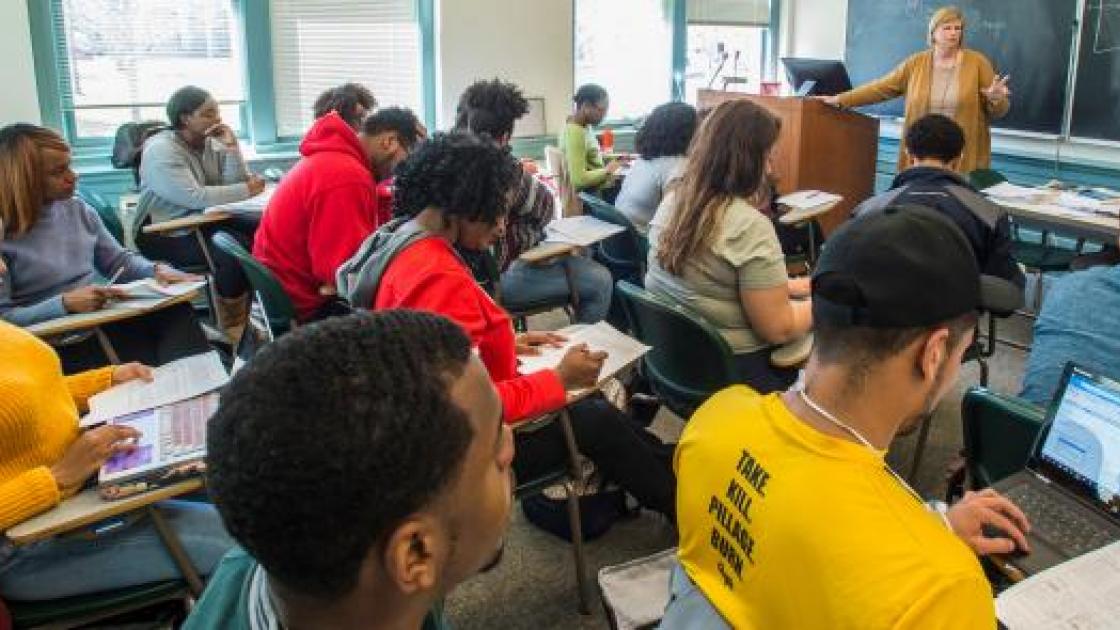 Welcome, prospective students!
Thank you for your interest in MEDPREP. We welcome your application for our next class - starting June, 2022.
Our webpages will have a NEW LOOK coming summer of 2021. Until then, we welcome you to learn more about our program through our current pages - for admissions questions, please contact our Admissions Office.
The Southern Illinois University School of Medicine Medical and Dental Education Preparatory Program (MEDPREP) is an intensive two-year academic enhancement program designed to help socioeconomically disadvantaged students and educationally disadvantaged students – including students from groups underrepresented in medicine – improve their academic credentials for medical or dental school entry.
Established in 1972 on the campus of Southern Illinois University in Carbondale, MEDPREP runs year-round with a dedicated faculty and staff. Students attend for five semesters (summer, fall and spring in Year 1, and fall and spring in Year 2). Year 1 of the program consists of foundational review courses in science, behavioral science, reading and academic skills that can enhance a student's GPA and prepare the applicant for professional school entrance examinations (MCAT or DAT). In Year 2, students apply to professional schools while taking further coursework to prepare for medical or dental school matriculation. MEDPREP accepts up to 36 students per year.
MEDPREP offers a supportive environment, small class sizes and individualized attention to help each student reach his or her full potential. In keeping with the demands of medical and dental schools, the program is rigorous and we set high expectations for our students – better grades and higher test scores only come through hard work and a dedication to excellence.
The MEDPREP program has successfully helped more than 1000 students gain acceptance into medical and dental schools. This long-running program is nationally recognized as one of the premier academic enhancement opportunities for socioeconomically disadvantaged and minority students. Our motto is "Challenge, Opportunity and Support." If you are ready for a challenge and would like an opportunity to show medical and dental schools that you have what it takes to become an outstanding health professional – if you feel MEDPREP may be right for you – we encourage you to explore these pages, read about our application process, and contact our admissions office for further information.
Overview of the admissions process
MEDPREP uses an online application portal, which can be accessed via our Apply page. The first session, the six-week Summer Boot Camp, starts with orientation on the third Friday of June. For exact program dates,visit the Apply Page.
MEDPREP uses two application deadlines for entry. For exact deadlines, visit the Apply Page:
Early Cycle: The early application deadline is in mid-September.
Main Cycle: The main cycle application deadline is in mid-January.
Our minimum qualifications for application are:
Overall undergraduate GPA of 2.2.
Science course (mathematics, biology, chemistry and physics) GPA of 2.2.
U.S. Citizen or Permanent Resident (Green Card).
Completed all or all but one medical school prerequisite course (one year biology with laboratory, one year general chemistry with laboratory, one year organic chemistry with laboratory, one year physics with laboratory). A semester of biochemistry, and a semester of either introductory psychology or introductory sociology are recommended, but not required.
There is no fee to apply to the program. An SIUC application processing fee is charged only if you are admitted into MEDPREP.
In order to apply you will need to submit:
Completed online MEDPREP application form.
A Consolidated Packet of supplementary materials:

Supplementary Application form showing schools attended and current/future coursework.
TWO letters of recommendation.
Official transcripts from each college or university attended.
As part of the admissions process, competitive students will be invited to attend an Admissions Day, where students visit the program and interview with MEDPREP faculty. Applicants must attend an admissions day in order to be considered for MEDPREP admission. Admissions day attendance is by invitation only.
For detailed information about the admissions process, visit the Apply Page.
While our recruitment strategy focuses on the State of Illinois and contiguous states, we welcome inquiries and applications from students nationwide.
For questions about the admissions process, please contact our Admissions Coordinator, Trent Stevens, in the MEDPREP Office of Admissions.
Trent F. Stevens, M.Ed., M.A.
Admissions Coordinator
MEDPREP Office of Admissions Southern Illinois University 210 Wheeler Hall, Mail Code 4323 975 South Normal Avenue Carbondale, IL 62901 618.453.1554  
email Mr. Stevens