Simulation & Skills Lab Curriculum
Advances in medical simulation technology have become a vital and exciting facet of the evolving way that EM residents undergo training. Simulation can provide training in a risk-free, supportive environment where the complex nuances of best-practice patient care can be identified, recreated, practiced and tested among different learners to ensure the highest levels of competency. At SIU, we strive to create common as well as unique crisis scenarios. Chaos can be created on demand and scenarios can mimic physiologic changes just as they would occur in real patients. We have a focus on utilizing unique and powerful learning opportunities in key competencies, including communication, teamwork, emergent conditions, and leadership, as well as in tasks that require well-practiced skills such as diagnostics and procedures.
Jason Kegg, MD
Director of Simulation
The Sim Lab & SMART Curriculum
In May of 2015, SIU moved its simulation curriculum into the Memorial Center for Learning and Innovation. The simulation center spans an entire floor of the new facility including 5 standard simulation bays integrated into an open classroom, an ED patient care room and trauma bay built to exact specifications to those found at our Memorial Medical Center ED, and a motion capable ambulance as well as an apartment residence to simulate pre-hospital scenarios. Four other simulation bays can be used to simulate outpatient clinic, medical-surgical floor, critical care, operating room, and birthing center scenarios also.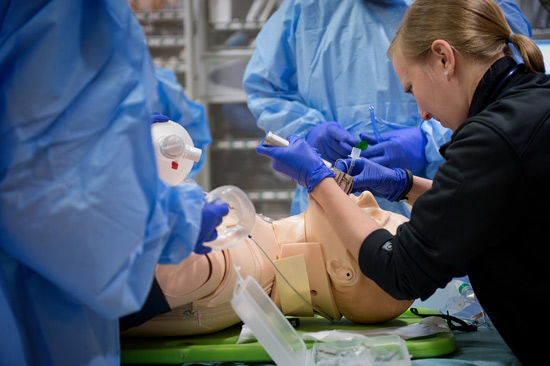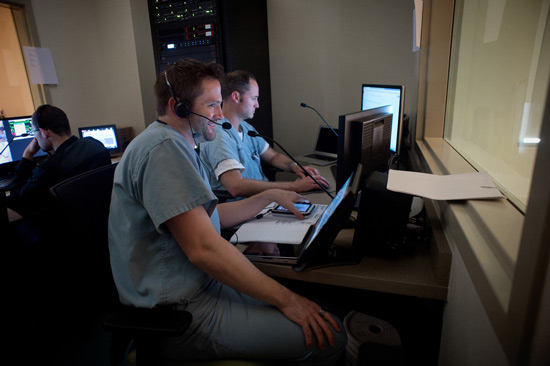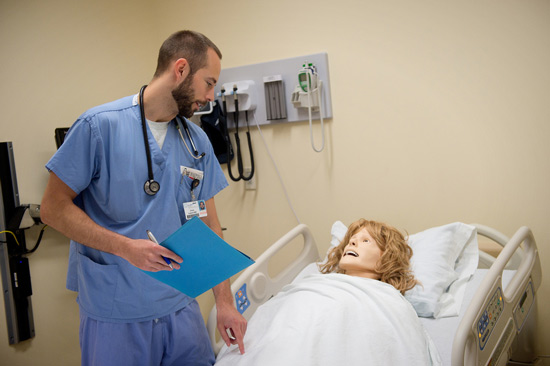 New for the class of 2017 is our Simulation Milestone Assessment of Resident Training (SMART) curriculum. As a response for more formalized resident assessment per the ACGME EM Milestone Project, the SMART curriculum was developed to direct simulation cases during an SIU EM resident's training. First year residents participate in two SMART sessions involving multiple single patient simulation encounters during their intern year. These encounters are chief complaint based and designed to assess resident skills sets in initial stabilization, focused information gathering, differential diagnosis synthesis, testing implementation, pharmacotherapy treatment, and disposition planning as they matriculate into senior status. These assessments are done at the end of orientation month and then again during the end of their intern year to track progress. Second year resident SMART simulations are designed to be performed twice a year once midway through their second year and then again just prior to them entering their third year. These simulations are designed to assess each residents abilities to handle difficult traumas, critical care encounters, codes, resident and midlevel staffing, and multi-patient situations. Each resident is assessed with regards to professionalism, communication, and teamwork milestones. This includes formalized testing and training on nursing to physician interaction, resident and midlevel chart review, end of life discussions, and giving bad news. The SMART curriculum for third year residents involves each resident in simulation case development, case coordination, and in leading simulation encounters during SMART. By involving our most senior residents in running the simulations they can be assessed on not only their knowledge base on each case but also on their ability to teach and train their junior counterparts from "behind the one-way glass." Formative feedback on SMART assessment days are given in summation during our residency educational committee meetings to provide recommendations on individual resident performance and to identify areas of improvement in our core curriculum. Each resident the receives their own personal feedback during small group sessions and during 6 month evaluations with residency leadership respectively.
Simulation aside from the SMART curriculum includes cases that are integrated into the Thursday didactic schedule through our "Sim-Interactive" hours. These encounters follow a deliberate practice model with feedback and debriefing that happens in real time during the encounters. Multi-disciplinary simulation takes place a few times a year during extended "Sim-Interactive" hours. During these simulation times our residents participate in simulation not only involving themselves and their classmates, but also include interactions with community nurses, techs, and prehospital providers to help bridge the gap in developing solid team work and communication skills during high acuity scenarios. At SIU we strive to give the most complete training that prepares the future EM physician not only for the clinical challenges of the field, but also the practical challenges one will face on a daily basis in the ED. Simulation provides a training modality to place our residents in these challenging situations and to test their abilities and decision making capabilities in a formalized and safe learning environment.
The Skills Lab
Through generous donations made by Covidien and Memorial Medical Center, the original SIU Surgical Skills Lab opened its doors in May 2000. At that time, it was one of only a handful of centers across the country designed specifically for training surgical residents. Given the procedural skill set required of EM, it was only natural for our residency to form strong relationships with the skills lab staff and to become one of the highest utilizers and strongest collaborators of the facility. The new Surgical Skills Labs opened its doors in the Memorial Center for Learning and Innovation in May 2015 and the Division of Emergency Medicine has continued its close partnership with the skills lab staff. The procedural curriculum headed by Dr. Rebecka Lopez acts to prepare and supplement procedural skills training with EM residents during "Sim-Interactive" didactic hours. Using both commercial procedure models and home made models the skills labs have many other procedural offerings including those listed below:
laceration repair
complex laceration repair
incision and drainage
difficult foley placement
slit-lamp examination
eye foreign body removal
orthopedic splinting
lumbar puncture (blind & ultrasound-guided)
bag-mask ventilation
endotracheal intubation
fiber-optic nasotracheal intubation
cricothyrotomy
tracheotomy
interosseous line placement
ultrasound-guided peripheral iv access
central venous access (blind & ultrasound-guided)
thoracentesis (blind & ultrasound-guided)
paracentesis (blind & ultrasound-guided)
chest tube thoracostomy
emergency thoracotomy
The skills lab is highly utilized during the orientation to verify proficiency and baseline skills in procedures our residents are responsible to performe beginning their intern year. Skills lab staff is also available off line to setup training on any procedure throughout the year during or after business after hours. In addition, creation of new procedure models are always on the mind of the staff who are more than willing to build on any ideas that might arise during training. We are very fortunate to have such a great facility and supportive staff to